Southwest High School
Class Of 1967
In Memory
Carder Manning (Choir Director)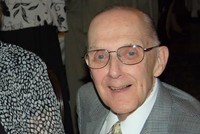 Carder H. Manning Jr. 86, of Belton, MO, passed away on May 30th, 2017, at the Beautiful Savior Home, Belton, MO. Visitation 9:00-11:00 AM with a "Celebration of Life" beginning at 11:00 AM, Saturday, June 17 at Belton Christian Church, 409 Airway Lane, Belton. A private burial will be held in the Belton Cemetery at a later time.
Carder was born to Mildred B. & Carder H. Manning, Sr. on February 22, 1931, and grew up in Northeast Kansas City. He began piano lessons at the age of seven and at the age of ten began singing in the Boy's Choir at Grace and Holy Trinity Episcopal Cathedral when Mabelle Glenn was the Choir Director at the church and Director of Music in the Kansas City school system. She heard him sing at Gladstone Elementary School, which began a love for and desire to teach music. He taught at William Chrisman High School (1956-1958), Southeast High School (1958-1960), Southwest High School (1960-1669), and Penn Valley Community College from 1969 until his retirement in 1995. At Penn Valley he was Professor of the Music Department, Chair of the Fine and Communicative Arts Division; the Humanities Division and also served on college and district communities. He continued part-time teaching at Penn Valley until 2005.

Carder graduated from Northeast High School in 1948. He earned an AA from the Kansas City Junior College in 1950, a BA in Music from the University of Kansas City in 1953, and an MA in Music from the Conservatory of Music at the University of Missouri at Kansas City in 1963. He served in the Army during the Korean conflict for two years.
Carder was a member of the Missouri Educator's National Conference (MENC), the Missouri Retired Teacher's Association (MRTA), and was initiated into Phi Mu Alpha Sinfonia, the national men's music fraternity. He was a lifetime member of the Belton Historical Society, The Kansas City Chapter of the American Guild of Organists, American Legion Post #488, Belton, and life member of the UMKC Alumni Association.
Carder directed the Declarations of Independence Choir, the Foxwood Springs Choir and was the first Director of the Southland Community Chorale that he and his wife helped organize in Belton. He directed church choirs for fifty-eighth years at Overland Park Christian Church, Country Club United Methodist Church, Old Mission United Methodist Church, Avondale United Methodist Church, Hillcrest Christian Church, Crossroads United Methodist Church of Belton and was a member and Altar Choir Director at the Belton Christian Church when he retired from church music in 2008. In 2014, after moving to the Carnegie Village Retirement Community in Belton, Carder and his wife organized the Carnegie Singers.

He is survived by his beloved wife, Marty; sister, Donnetta Lowry of Houston; nephew, William Lowry (Beverly) and children: Creed, Case, and Kemper of Dallas; stepson, Lyle Fleetwood (Tima) of Belton; stepdaughter, Linda Fleetwood of Overland Park; two great granddaughters, Stacey Harris (Michael) of Belton and Lisa Morris of Olathe; three great grandchildren, Dylan, Hailey and Taylor and four great-great grandsons. His is also survived by numerous cousins, friends and former students. In lieu of flowers, the family requests memorial gifts to Great Lakes Caring Hospice, 900 Cooper St, Jackson, MI, 49202 or to the Belton Christian Church, 409 Airway Lane, Belton, MO. 64012. Your condolences may be left at www.mcgilleygeorgegrandview.com Arr: McGilley & George Funeral Home, Belton, MO (816-322-2995)
http://obits.dignitymemorial.com/dignity-memorial/obituary.aspx?n=Carder-Manning+&lc=2519&pid=185702184&mid=7433469