Southwest High School
Class Of 1967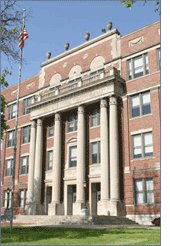 ANNOUNCEMENTS
•

•

Save the date: April 13, 2023, 11:00 a.m., Southwest High (65th Street side, north of track)

Ever see a stone obelisk on the grass near Southwest High School, north of the track on the 65th Street side? Or did you ever notice a plaque on the flag pole about 50 feet west of the stone structure, commemorating someone named Coach House? Or, are you like many who have lived in Kansas City, maybe even attended Southwest, and were oblivious to both? Here's some background.

Louis A. House began his career as coach when Southwest High School opened its doors in 1925. During his career at Southwest, he coached football, basketball, and track. His teams were perennial champions, and he became known city-wide as a coach who not only produced winning teams, but he was also a great character builder. Known as "LA" or "Coach" he was a beloved member of the school and the entire Kansas City community. At the time of his death in 1954, then-Principal W. Lawrence Cannon stated "Southwest high school has lost one of its staunchest friends, a superb teacher and a great coach. He was a leader of youth and builder of good men hardly with equal. There are hundreds of living monuments to Mr. House living throughout this broad land. These were once boys who became better men because of associations with him in gym classes and on athletic teams. He had an extremely effective way of driving deep a suggestion or an idea and occasionally a reprimand." Coach was active at the school until just a few weeks before his death in December 1954 at age 57.

A prominent Kansas City businessman during that time, Henry Talge, was a long-time close friend of President Harry Truman. Between 1948-1952 President Truman conducted a large-scale renovation of the White House. The White House did its best to repurpose as much of the discarded materials as possible, including a large shipment of stones to Kansas City that Mr. Talge arranged. Talge, founder of Rival Manufacturing (think Crock Pot), was known for his philanthropy, largely anonymous. Talge's grandsons, Stephen and Lisle, attended Southwest and were students of Coach House. In 1955, Mr. Talge arranged anonymously for a monument be erected to Coach House, made from the White House stones.

Over the years, the original plaque was stolen for its metal. Its replacement was put on the flagpole instead of the monument. The monument began to lose mortar and show its age. In 2022, some 1967 graduates visited the site as part of their 55th reunion, and an idea was born. Two classmates, Pat Titterington and Mark Wasserstrom, began conversations with the KCMO school district. They were hoping to get permission to have a replication plaque gifted by the class of '67 added to the monument. The school district did them one better. They began to repair the monument, including attaching the new plaque. On April 13, 2023, 11:00a.m. they will hold a rededication ceremony and reception for the House and Talge families.

Whether you know either of the House and Talge families, were students at Southwest, or just a Kansas Citian who loves a good story featuring home town successes, you're welcome to come. We encourage you to spread the word, too. All are invited to attend.

We'd appreciate your sending an email to SWHS67KCMO@gmail.com, including names of all guests who will be in your party. This RSVP is not required, but it will help us plan for the refreshments at the reception.