Southwest High School
Class Of 1967
In Memory
Ben Salomo VIEW PROFILE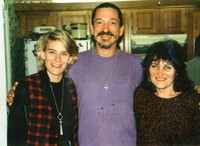 Ben with his sister Beth (left) and Caroline (right) November 2001.
Deceased Classmate: Ben P. Salomo
Date Of Birth: 07-18-1949
Date Deceased: 02-12-2008
Age at Death: 58
Cause of Death: Lung and Brain Cancers
Classmate City: Kansas City
Classmate State: MO
Classmate Country: USA
Was a Veteran: Yes Marines
Survived By: Father Russ Salomo, mother Peggy Saffir, sisters Caroline Salomo, Beth Haney and Amy Weiser, kids Petrina Reynolds and Harley Salomo, grandkids Chris and Josie Reynolds

Ben, my brother, didn't graduate Southwest, but did go to Hale Cook, Bingham, Southwest and Westport. He joined the Marine Corps at 17. On leave from boot camp he was badly injured in a car accident at 57th & Ward Pkwy with Tommy Reynolds, but was shipped on to Viet Nam shortly thereafter. He served a tour and a half before being retired in 1969. He said it was the best time of his life. Ben lived quite a few places and we were made aware of at least 5 wives and 2 children. Ben and I had a lot of wild, fun, crazy/dangerous, and ridiculous times together over the years. He was very unique and if you ever knew him, you'd never forget him! An optimist who was still up and at it until 4 days before his peaceful death. Caroline

Click here to see Ben's last Profile entry.