Southwest High School
Class Of 1967
In Memory
Richard Chesmore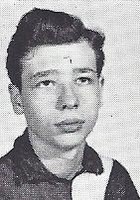 Dick Chessmore was stationed in Korea during the Vietnam era and had a beautiful Korean girlfriend. After his service he lived for a time in New York City where he wrote articles for magazines. He had several published in DownBeat magazine which were music reviews. Dick worked for the IRS for years and was there at the time of his passing. Dick wrote the most insanely funny Post Cards and Holliday cards. Dick also taped some of the most hilarious comedy skits I have ever heard purely from his imagination.
Dick passed away in July 2, 2003 from a heart attack.
Information furnished by Mike Eatough.