Southwest High School
Class Of 1967
In Memory
Diana Watkins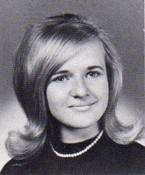 "Diana married and had two children, a daughter and a son, with her first husband and they were married 15 years. After her divorce she raised her two children on her own and then when her children were in college she married her second husband and he passed away after they were married 6 years. She later married a third time and they were happily married until Diana died unexpectedly from a brain aneurysm in August of 2002. Diana was an office manager for an insurance company and she resided in Ottawa, KS. She was a wonderful, caring, intelligent person and she never met a stranger.

I would add to that that Diana and I were close while we were kids and in high school. I loved her a lot. She was always kind and caring about other peoples' feelings. She always tried to be friends with people who were not "cool." She had a compassion for people that was pretty mature for a high school student. I recall once she was "invited" into a group of girls in high school who were pretty popular and who had their own little clique. Despite the need all high school kids have to be in the in crowd, she refused to join the clique because they made fun of some of the other girls who were not so cool. So she lived what she believed."
Information received from Dave Barker, Diana's cousin.