Southwest High School
Class Of 1967
In Memory
Richard Stiefel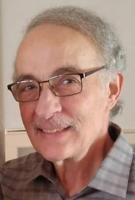 October 6, 1949 – November 22, 2021
Richard (Dick) Norman Stiefel passed away Monday, November 22, 2021 at Menorah Medical Center in Overland Park, Kansas. A Celebration of Life will be held at 11:00 am on Saturday, December 18th at the Village Shalom Social Hall. All are welcome to share memories of Richard in person or online; contact the family for details.
He was born in Kansas City, Missouri, October 6, 1949 to Ruth and Norman Stiefel, who had emigrated from Nazi Germany in 1939. He is survived by his wife Marsha, daughter Claire, son Jonathan, sister Irene Starr (Norton) and nephews Andrew and Ethan Starr.
Richard graduated from Southwest High School (1967) and Drake University (1971) with a degree in German, Education, and Business. After graduation he lived in New York City for a decade, working at the United Nations and later in publishing.
His publishing career included roles as an associate editor at Kendall Hunt as well as positions at Academic Press, Prentice Hall, and F.A. Davis.
Upon returning to Kansas City in the early 1980s, he worked in the family owned jewelry business. In Kansas City he met Marsha (Finkelstein) Stiefel at a gathering; they married, and they loved and supported each other for nearly four decades.
Ultimately he pioneered the role of stay-at-home parent. He excelled at this then unconventional vocation. Richard not only strongly shaped the lives of his children, but also that of their friends and classmates, who remember him as being interested in and kind to everyone. The game of chess was a lifelong interest of Richard's. He took Claire to a local chess club, and started a chess club at Briarwood Elementary for Jonathan and his fellow students.
Undoubtedly everyone in Richard's family is aware of his keen desire to share his knowledge of family history. It was certainly helpful that he had a phenomenal memory for dates, and was unlikely to forget a birthday, anniversary, or other major life event. All those close to him will miss his emails.
His love and devotion to family extended to pet dogs over the years including Lady, Leika, Lutzi, Lacey (and granddog Marco.)
His other interests included collecting stamps, coins, campaign buttons, gardening, and yard work. He was a regular visitor at the local library, and the occasional poker table.
In an understated manner, Richard impacted many lives by listening, smiling, and engaging with his friends and his community.
Donations in Richard's memory may be made to:
Prostate Network, 2007 W 86 St, Leawood, KS 66206, www.prostatenetwork.org
OR
Recognizing his love of senior dogs, Leavenworth Animal Welfare Society, 728 Cherokee St, Leavenworth, KS 66048, www.leavenworthanimalwelfaresociety.com
A Celebration of Life for Richard will be held on December 18, 2021 at 11:00 am
Village Shalom Social Hall
5500 W. 123rd St.
Use North Entrance (access from 122 & Nall or 123 & Woodson)
Overland Park, KS 66209