Southwest High School
Class Of 1967
In Memory
William Robinson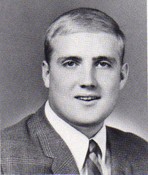 Date of Birth: 12-18-1948
Date of Death: 10-11-1975
Age at Death: 26
I am Susan Robinson, Bill's sister and thanks to Mary Alice Salisbury who found me on Facebook, I found out about your class website and was asked to give some information about my brother Bill after he graduated from Southwest.
Bill received athletic scholarships to play football and decided on KU. He went to KU fall of 1967 and as Steve Helphingstein pointed out on his post, was playing behind John Riggins. Bill wasn't very happy at KU-not only with football but he just didn't like being at a large University. Bill gave up his full ride to KU, and transferred in January of 1968 for second semester his freshman year, to a small school-Graceland College (now University). Graceland is located in Lamoni, Iowa, which was also my Dad's home town and the college is affiliated with our church. Growing up, Bill was very familiar with Graceland and the small town of Lamoni. He always had liked it there when we would visit my Dad's family there. Both my parents graduated from Graceland as well.
Soon after transferring Bill met the love of his life, Pamela Sickles - ironically from Lawrence, KS. Bill used to joke about how he had to leave Lawrence to find his girlfriend in Iowa who was from Lawrence. Bill and Pam were married on August 30, 1969 after their sophomore years at Graceland. They were married in Lawrence, KS. I do need to say, that contrary to Steve Helphingstein's memory of not being at their wedding, he was in fact IN the wedding party (we have the pictures to prove it, Steve - think in powder blue tuxes). I asked Pam today if Steve was the Best Man or my brother Dale and she really thought it was Steve.
Bill graduated from Graceland in 1971 and on July 1st, they had their only child, their son Shane. He is now happily married and has 4 kids of his own.
Bill got his first job teaching and coaching football at Liberty Junior High School that same August. Bill had very successful football seasons coaching, but by the end of the school year in 1974, he had been having headaches and thought maybe it was from stress of working with all the kids. He decided to take a job with Business Men's Assurance (BMA). Pam said he was doing very well in his new position, but the headaches were getting worse and he started having some blurred vision. After several tests at the hospital, it was determined that it was Brain Cancer with the tumor sitting on the optic nerve. He was told then he had only 11 months to live. He was at BMA for about 10 months as he became too ill a little later to maintain his position there.
Bill died at their home in Liberty 10 months after his original diagnosis, at age 26, on October 11, 1975, surrounded by Pam and the rest of our family.
Bill's funeral was held in Liberty and per his request, he was buried in Lamoni at Rosehill Cemetery in the family plot, now along with my Dad who died of Melanoma in December, 1999 and my Mom who passed away in May of 2011.
Bill was truly loved by his family and friends. He and Pam were so very happy and really just starting out with their young son Shane, who was only 4 at the time of Bill's death. Pam was left to raise Shane by herself and Shane without really knowing his father. As you can well imagine, everyone was devastated when we found out about Bill's cancer, the prognosis and the short time he had left. Bill did have chemo and surgery but neither yielded him anymore time.
Bill had a wonderful, special bond with my Dad along with my brother Dale-the 3 of them together almost certain to have a lot of fun and laughter. My Dad and Bill had a wonderful sense of humor and growing up they spent a lot of time together-obviously sports was a big connection, and of course those summers painting together when the boys were teenagers.
Bill was creative and fun growing up as a kid. He was always thinking about what to do next. He would build fun things in the basement for us kids to play on, I specifically remember him building a plane one time. Not only could he think of fun stuff to do, he could put a plan together by himself and build it.
He loved his years at Southwest and all the great friends and fun times there. Besides sports that enjoyed, he loved singing in the choir and playing the role of Wally Womper in the school operetta, How to Succeed in Business Without Really Trying. From that role Bill actually named our dog back then "Wally", who he received as a graduation present. Mom and Dad had Wally for many years.
After reading all the wonderful things that some of you wrote in his Memory page, I can see how much he touched some of your lives as I am sure so many of you did his. Steve H., you made me laugh and cry reading your wonderful post-especially laughing of the thoughts on the 2 Mom's. You were his best friend and obviously have some special memories (except forgetting you were in his wedding

).
About 10 years ago, after my Dad was gone, my Mom went to Independence to have her car serviced at a place a friend suggested-never had been to this service station before. The young man that took care her car, Mom said, was kind of big gentle "kid" and very kind. He asked Mom for her name and she said Mrs. Robinson. He said, you know I once had a coach in junior high by that name. My Mom just listened and he went on to tell her that this Coach Robinson was the only reason he stayed in school. He said he was a fat kid then, didn't fit in, very shy and that this Coach Robinson touched his life so much by just his kind words, his listening and his encouragement to stay in school- that he stayed in school, graduated high school-got married, had kids and now owned the service station. He also went on to say that this Coach had died really young unfortunately and how saddened he was when he had heard that news. My Mom, who I am sure had tears coming down her eyes, told him that the "Coach Robinson" was her son. You never know who you will run into with a connection to your life. One never realizes what impact you might have on someone. This was such a sweet story how Bill touched the life of another thru his kindness and listening and of which I am sure Bill never realized his impact.
Sometime a few weeks before my brother's death, and Bill not really talking much at that point, he saw my Mom with tears in her eyes and he told her, don't worry Mom, Have Faith, the sun will shine again.
This is written on Bill's headstone.