Southwest High School
Class Of 1967
In Memory
Paula Jenkins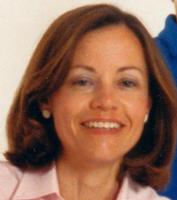 Please note this additional text previously omitted from Paula's obituary: Remembering Paula's love for animals, donations in her memory are suggested to KC Spay and Neuter or an animal welfare organization of your choice.
Paula Wesley Jenkins, 69, of Kansas City, Missouri, died Friday, September 28, 2018 at St. Luke's Hospital. She suffered a subarachnoid hemorrhage on Saturday, September 15, and succumbed to its effects.
Paula was born on January 4, 1949 in Kansas City, Missouri, the 1st of 4 children born to Susan Heller Jenkins and John Wesley Jenkins, IV. She was the light of her parents' lives—a living, breathing golden child. Paula attended Bryant Grade School and Southwest High School, class of '67. In 1971 she received a BA degree in Elementary Education from National College of Education in Evanston, Illinois. Paula was a hard act to follow for her younger siblings, but she never lorded anything over us. She was a patient, smart, resourceful and talented big sister. She let her little sister come into her room to listen to Beatles records, and once allowed this sister to go with her and two friends to the Beatles concert at Municipal Stadium in '64. Paula orchestrated a trip for the four of us kids to have a portrait made by a professional photographer—this had to be in the late '50's, and kept it under wraps as a surprise for our parents. Now, how did she manage this? In the picture, we are clean, presentable and in matching outfits! Magic Paula…..
Paula had talents galore, and was a passionate person in her core. Her loyal legions of friends come from her diverse arenas of interest. Art, theatre, literature, animals and animal welfare, cinema and traveling kept her brain in overdrive. Her love of our great big blue planet and all of its enticements held her in thrall. The travels she made all over the globe were meticulously described in journals. The people she met while on these trips became friends for life, and some became repeat traveling companions. Equal to her love of travel was her love for books, all books. Paula gravitated towards part-time retail positions at book sellers. The connections she made in these shops were among the most important and cherished of her whole life. We have had many, many condolence messages from Paula's book club compatriots. They have relayed to me that Paula was the beating heart of their clubs, tackling the research and always striving to facilitate the meetings. Paula loved her book clubs, loved the discussions and interactions, loved all of the members. And evidently, they loved her, too.
We want to stop here to make special mention of Paula's much-loved group of friends from her college days. You know who you are. Ditto all of Paula's dear friends from Bryant and Southwest.
Her work history is long and it is varied: elementary school art teacher at Barstow in the early '70's, graphic artist at Smith Grieves/Western Envelope, graphic artist at Thompson Hayward Chemical Company, painter of needlepoint canvases for a much beloved Prairie Village shop—In Stitches, Customer Service Agent for American Century Investments, part-time retail positions with many book sellers, including Bookslinger, Brentano's, Waldenbooks, and Rainy Day. Paula was a very hard worker. She was the definition of a dedicated employee. Her last positions were very close to her heart—devoted daughter, personal assistant and sometime care-giver to our dad, and devoted, pinch-hitting sitter and great aunt to Millicent Stokely.
Paula was predeceased by her mother, Susan Heller Jenkins, her brother, John Thomas Jenkins, and her nephew, John Thornton Jenkins. She leaves to cherish her memory her father, J. W. Jenkins, IV; her step-mother, Sharon Jenkins; her brother, Robert D. Jenkins and spouse, Lynn, of Prairie Village, KS.; her sister, Susan J. Stokely and spouse, Joseph, of Kansas City, MO.; her step-brother, Robb Gibson and spouse, Gail, of Kansas City, MO.; her step-brother, Rich Gibson and spouse, Kim, of Overland Park, KS.; nephew, Eli T. Jenkins of Ventura, CA.; nephew, Paul Jenkins Stokely of Kansas City, MO.; nephew, Walter J. Stokely and spouse, Kristin, and their daughter (Paula's great niece), Millicent, of Kansas City, MO.; step-niece, Brooke Gibson, of Nashville, TN.; step-niece, Bailey Gibson, of Springfield, MO.; step-niece, Sara Strand, of Lawrence, KS.; and step-niece, Emily Gibson, of Overland Park, KS.
A Celebration of Life is in the works. Please, friends and family—stay tuned for information. (For Celebraation of Life information, follow link to obituary location; this class web site will also share information as we find out details).
https://www.legacy.com/obituaries/name/paula-jenkins-obituary?pid=190357756