Southwest High School
Class Of 1967
In Memory
Barbara Landie (Baker)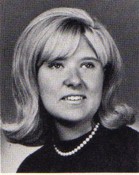 Deceased Classmate: Barbara Landie
Date Of Birth: 12-17-1949
Date Deceased: 11-2010
Age at Death: 60
Cause of Death:
Classmate City: Dallas area
Classmate State: TX
Classmate Country: USA
Survived By: Jeff Baker, spouse Zachary Baker, son Seth Baker, son Nathan Ray Baker, grandson

Barbara was my first cousin and we had many good times together. She was strong and brave in facing her illness and her family misses her so very much. She was a loving wife, mother and grandmother. --Nancy Mayer Minsey.