Southwest High School
Class Of 1967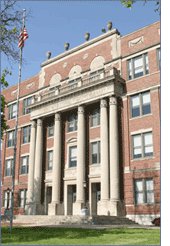 ANNOUNCEMENTS
•

Updated April 8, 2019, from Larry Pollard:

Cameron Veterans Home

If you read my previous message about the Greenberg/Pollard connection regarding the Holocaust this will update you on what happened March 18th.

When Gene and I started talking about a visit to the Veterans Home I envisioned Gene and Stan coming back and meeting up with me in Cameron so the Greenberg brothers would get to see the library and visit with Dad. However, Gene doesn't do anything halfway and neither does the Veterans Home.

The visit became a dedication of the "Military and Remembrance Library" which is the only one of its kind in Missouri. The mayor of Cameron presented a proclamation and media seemed to be everywhere. Since my prior post, books have been sent by many people including our classmates regarding the Holocaust.

The Volunteer Service director told me 87 guests signed up but the number was closer to 100 attendees. In addition to the many dignitaries Bud Young, Cynthia and Steve Helphingstine, Janet Jackson and husband Larry attended. Everyone was there to listen to the Greenberg brother's personal story of the Holocaust and to see the picture of the Greenberg family in the library as a remembrance of those that suffered.

As Gene and Stan spoke I scanned the room just to capture the expressions of those listening. I could tell by their faces and many comments that came afterward that the Greenberg story captured their attention and their hearts. For Bill Pollard the mission was accomplished for that day. There is more work to do to educate others however.

Toward the end of the program Col. Grace Link presented Challenge coins to the Pollards and the Greenbergs from the Missouri Veterans Commission as a symbol of gratitude for their devotion to the Holocaust and Veterans everywhere. In my opinion it was a day that will not be forgotten by those attending. It is also a reminder that the story needs to continue for future generations. Holocaust survivors and WWII Vets are being lost to father time rapidly. That is why those of you who shared personal Holocaust stories with me after my original post need to keep sharing. Bill Pollard is 96 years old and he isn't done yet. Since the March 18th event and newscast on channel 2 St. Joseph there have been more requests for interviews. There will be a story in the KC Jewish Chronicle, a media story on KSHB 41 and other stories in Rural Missouri Magazine, VFW Magazine and interest now from the Veterans Administration in Washington, DC thanks to Gene's daughter. Due to all of this new interest, generated by Gene, Bill Pollard will be busy through his 100th birthday.

On a funny note: At the beginning of the program there was an invocation delivered by the Reverend Mark McBee. Nice guy and he did a wonderful job. My wife Kiera and I looked at each other and smiled. Turns out we were thinking the same thing. Right after the program ended I said "They couldn't find a Rabbi in Cameron?"

•

Updated April 7, 2019 from Gene Greenberg: Almost a year ago Larry's letter to me seemed to drop out of nowhere. By the time I finished reading the second paragraph I realized this was no ordinary correspondence, but something that was going to make life more meaningful.

That is how I found myself walking into the Missouri Veteran's Home in Cameron on March 18. Now Larry and I had been planning this visit for a couple of months. The date was picked as one that was convenient for both me, and my brother Stan to go to Cameron. Our plan was to see the library Bill Pollard had built in his veterans home, thank him for all he was doing, and spend the time with Larry that we never get to do at the reunions.

I was quite blown away at what the staff at the veterans home, with an assist from Larry I suspect, had done. Stan, me, and our families got a real celebrity welcome. The staff says there were around a hundred people in attendance, a number that included four members of the great SW class of 1967. Bud Young, Cynthia and Steve Helphingstine, Janet Jackson and her husband had found their way to Cameron.

The parade of dignitaries seemed endless as the people in charge of the veterans communities across Missouri all found their way to Cameron, too. There were speeches, and accolades as the State of Missouri turned out to honor a great man, Bill Pollard.

Larry mentioned that I spend a great deal of time teaching the Holocaust. I have spoken to small history classes and auditoriums filled with students and teachers. I grew up in the Holocaust survivor community in Kansas City and spend time with what is left of the survivor community in Las Vegas. My trip to Cameron has given me a lot of new hope that the lessons of the Holocaust will not die with the survivors, but the stories will continue to be told.

In a few weeks I will have another unique opportunity. I will get a few minutes to speak to the Governor of Nevada, and the state's legislators at a reception commemorating Holocaust Remembrance Day. I intend to tell them about rural Cameron, Missouri, and the Military and Remembrance Library. About two nine-year old boys talking about the numbers tattooed on one of their parents arms, and about a 96 year old Army Veteran who witnessed the horror at Dachau and who now has a mission to teach the Holocaust to students at a nearby college and anyone else who will listen.

I will challenge that special audience to vote to support Holocaust education and appropriate the funds to do it, because if two nine-year olds can start what they did, imagine what can be accomplished if we really try.

Larry has been a good friend for over sixty years, he and his dad deserve the credit for what's happening in Cameron and for the great things that will grow from there. - Gene Greenberg

•

Updted April 7, 2019 from Larry Pollard: KSHB Press coverage re Greenberg/Pollard Holocaust connection:

Missouri veteran hopes new library will help teach lessons from war

https://www.kshb.com/news/local-news/missouri-veteran-opens-military-library-to-honor-lives-lost-in-holocaust

With the help of a family who experienced a Holocaust tragedy, a 95-year-old Missouri veteran has opened a special library at the Missouri Veterans Home in hopes it will help teach future generations about World War II.